Sanbar Kennel was created in 1970 in Midwest Indiana by Polly West, who took her love for the Brittanys, Weimaraners, and Beagles to create her foundation for the breeding and showing of champion dogs.
The original kennel took their favorite hunting dogs to start a training and obedience program. As Polly described it, "We thoroughly enjoyed teaching the hunting dogs the trials and tribulations of Obedience Training. We had our exciting moments in the ring and outside the ring when hunting."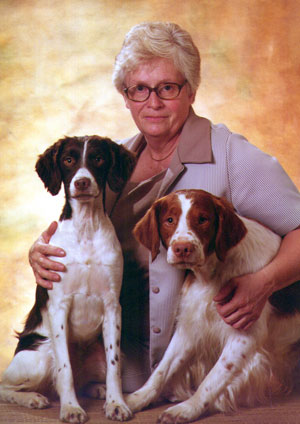 Polly West with Ch Rerun of Autumn (Rerun) and Ch Auten's Cartago Bay (Tag)
Because of the obedience efforts, several dogs achieved the CD title after their registered names.
Sanbar's first conformation dogs were not at the champion level, but the experience taught the fundamentals of good conformation and showmanship. Polly quickly started the program to upgrade their dogs to the show quality level.
Achieving show-quality level for a dog, without losing the hunting instinct, takes patience and selective breeding. An important aspect to Polly in hunting dogs is to keep and promote their hunting instincts. She believes that solid conformation and hunting instincts are key characteristics of her Brittanys and Weimaraners.
Polly's love for the Brittanys and desire to perfect the Sanbar bloodline, has led her to produce elegant dogs for the conformation shows, which compete with the highest level in the hunting field. As Polly says, "I wanted a Brittany with elegance in the show ring, but still could go out and run in the field and find the birds to achieve the Dual champion level - Show and Field.
Over the years, as Sanbar continued to grow, so did Polly's children who followed in the business. Sanbar Kennels Oregon is located in Rainer, Oregon, and operated by Polly's daughter, Sandy West. Sandy specializes in the Weimaraner breed for conformation and field training, with interests in Brittanys.