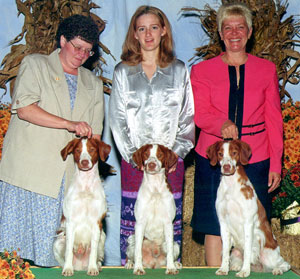 (L>R) Ch Sanbar's Curtain Call (Jonnie),
Ch Sanbar Vem Late Night Call (JJ),
Ch Sanbar's Zax Call Girl (Heidi)
Polly credits the help of "many super nice people and dear friends," who have assisted her over the years, including:
Barbara Scott, who has shown many of the Sanbar Brittanys to their champion levels.
Eddie, Vickie, Herbie Manifold who has performed the early field and hunt test work and dog sitting.
Nickie Manifold, who has assisted Polly in showing the dogs. She is always willing to help.
Team Sanbar extends special thanks to everyone who has helped along the way including:
Dr Barbara Pepin – The premier Sanbar Vet who always provides good advice with whom we only co-own Brittanys.

Shea and Tiffany Skinner – the handling team who put the crowning touch on Jon's wonderful show career. Shea and Tiffany accomplished an almost impossible task in finishing Jon's campaign.
Tiffany became an extension of Eve, Jon's liver colored daughter, to exceptional show ring accomplishments. This caring handler team has finished and campaigned numerous Sanbar Champions.

Tiffany and Harley, Jon's protégé son, became a dynamic duo in the ring.
Janice Hayes – who has been exceptionally showing our pups since we returned to SoCal.

Paul and Peggy Doiron – Training and handling Hershey to his Dual Championship in the field.

Bob, Valerie, and Hyatt Burchett – Their excellent handling of Chief and Hershey in the field and at the National Gun Dog Championships.

Greater Indianapolis Brittany Club

Chris and Ted Grisell – Nani Kennels

Andrea Jordan Lane - Proud Owner of Ollie (Mile's great grandfather)

Bev Millette - Good Friend and Expert Brittany Advisor

Dr Jon Culberson - The Sanbar Vet with office a few miles away in Indiana!

Adam Wilkerson - Jonnie's 2003 & 2004 Handler who developed Jon's style and performance. Adam skills made the difference in Jon.

Amy Rodrigues-Booth - She raised the bar of excellence for Jonnie and showed Readi to perfection.

Agnes and Joe Rodrigues - Advisors extraordinaire.
My thanks to everyone else who has helped along the way
- Polly West